Donate to the Bahamas
Thank you for your generosity & donations! The Manchester Charitable Foundation has agreed to match every dollar up to $1 million. As an example of your kind donation, a partial list of funds have been distributed to the following organizations.
Bahamas Red Cross – urgent disaster relief and humanitarian aid
The Bahamas Hurricane Restoration Fund - relief aid to hurricane victims and long-term shelters
Rotary Service Above Self - resettlement of displaced persons
Hope Bahamas - recovery of medical and wellness centers
New Providence Community Center – delivery of emergency supplies, food and evacuations
Lend a Hand Bahamas - relief to displaced persons and delivery of urgent items to stricken places
Grand Bahama Disaster Relief Fund - rebuilding communities in Grand Bahama
Ranfurly Homes for Children - enrolling evacuee children in schools and trauma counseling
World Central Kitche n- temporary kitchens, delivery of food into stricken areas, feeding aid workers
The Salvation Army Bahamas - delivery of emergency supplies to shelters
Mercy Corps - technical expertise and survivor assistance
Hands for Hunger - emergency food relief centers
National Association of the Bahamas - rebuilding communities and financial assistance for students
One Eleuthera Foundation - secure housing for evacuees and counseling
Lillie Renee Foundation - empowering children, senior citizens and disabled persons
Paradise Fund – emergency relief supplies and rebuilding schools
IDEA Relief – immediate disaster and emergency assistance and clean water
Here are a few examples of how you have impacted lives for the better.
A message from Papa Doug Manchester:
We are sending our thoughts and prayers to all of the families who have been affected by hurricane Dorian and to all of the Bahamian people. You are not alone and I know you will persevere through this catastrophe. I am proud that the United States of America has taken an active role in aiding and helping those devastated by the storm, but we must do more. As a concerned US citizen, I want to help the Bahamians in any way I can. I know there are many Americans who visit and vacation in the Bahamas, and want to help. There are many ways to do so. I am personally contributing my own resources to help support this effort and encouraging all US citizens to come together and support the Bahamian people.
This is a tremendous opportunity for America to forge an even stronger relationship with the Bahamians by showing our support in the greatest time of need. We need to ensure their safety and security and help them to recover, restore and rebuild. To all of the Bahamians, we love you, we support you, and we are here to help you. You are not alone. God Bless.
From the Bahamas
A visit to the Shelter
Six young boys who have lost their parents
A young baby with a volunteer at a shelter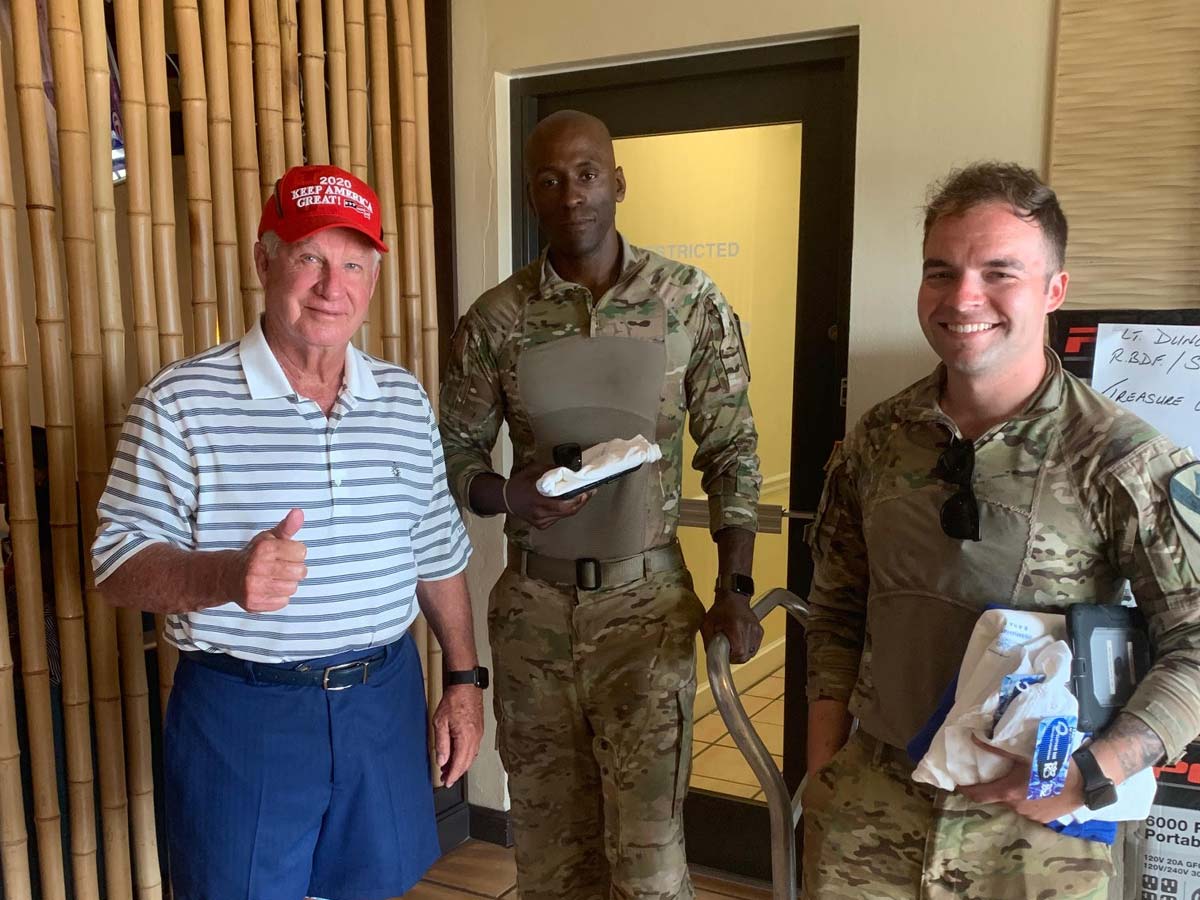 Boat seen 1000 yards off shore
Vehicle wrapped around a palm tree
Papa Doug on One America News
Update from Papa Doug:
I have been in the Bahamas since Saturday and I am proud of the United States of America for all of the help they are providing the Bahamian people. We have incredible support from our military, coast guard, first responders, and many other agencies. With the coordination of Nassau and the Islands, logistical support from volunteers, search and rescue teams, we are working together to address this tragedy. As a private citizen, I would like to thank all of you for contributing, and a special thanks to the United States of America and the Trump Administration for the aid you are providing. We will continue to work together to help the Bahamian people.
Flying over the aftermath left behind by Hurricane Dorian
Live recording from the Bahamas
Video of Bettina Anderson & Papa Doug delivering 2,000 pounds of supplies including:
1 pallet of MRE (meals ready to eat)
2 pallets water
Medical supplies
Hygiene supplies
Baby supplies
Lights
Paper towels
Generator
2 portable ac
2 shop vacs
2 Blowers
Fans
Tarps
Nails
Tools/gloves
Dorian Hurricane Facts
45 deaths and thousands of people unaccounted for.
This has caused generational devastation with over 60% of the homes destroyed and 70% underwater.
Destruction is set to cost billions to restore.
More than 60,000 people will be in dire need of food, shelter and water.
This will take a massive coordinated effort to rebuild the Bahamas communities.
Listen to a live heartfelt story from a local Bahamian
Thank you to our donors!
Rob Rich
Marion Jaroszewski
Ann Bennett
P L Handsel
Donald Deane
James Durham
Victor Hernandez
Vincent Carrigan
Tom Knox
Joshua Broadhurst
James Phetteplace
Geraldo Familia
William Wullschleger
Jacqueline Johnson
Donald Thompson
LeAnna Amos
Perry Dealy
Mary Moss
SHIRLEY COCHRAN
William Butler
Kathleen Amato
Judith Kallies
Jeffrey Cromer
Elias Constantine
Anna Perez
Kathy Booher
Mark Mizianty
Amelia Cole
Kevin Dwyer
Dana Oakley
Jiten Patel
Lori Ann Stevens
William Kush
Roger Sweet
Terry Wilkinson
Miguel Orama
Gillian Carmena
Mary Salzman
Desmond Duarte
Sandra Todd
Larry Wilson
David Wilson
Michael Glenn
Lisa Bieszczad
Brian Michaelson
Kevin Chapman
David Devol
Anthony Pasqualone
Camille Coates
Lauren Ward
loretta charnley
Thomas Hollingshead
James Edward Bullock
Thomas Burke
Edgar Hodges
Kathy Ripperger
Gemi Neff
Belle Riley
Gail Faggard
Patrick Brooks
David Brewer
Cindy Hundley
Paul Keller
James Thomas
andrea zabiegalski
Joseph Kelly
Anna Mirabal
Lynn Holm
Calvin Moore
Ann Viglotti
David Thomas
Theresa Lines
Scott LeVora
James Brumfield
Charles Knoblock
Kevin Terrace
Martin Pierret
Leonie Waltherr
Andrew Hovasapian
Robert Harman
Charles Caho
Renee Donaldson
Robert Grance
Lashes & Waxing
Arthur Patten
Melanie Kassar
Bridget Dunken
Robert Moura
Arthur Marlin
Patti Crozat
Daniel Florenzo
Dick Boogaard
David Linfoot
Lisa Motola
Robert Leone
Benjamin Roth
Przemyslaw Borek
Scott Harvey
Donna Kelley
Phyllis Troia
Jonathan Deutsch
Karen R Cukryznski
Daniel Gumbert
Bernard Degiacomo
Penelope DeCordova
Terri Sokoloff
Glenda Wright
Robert Pratt
Nicholas Stumpf
Greg Sippell
James Ingle
Linda Holmes
Valerie Oliver
Michael Reedy
Diana Fabiano
Stewart Hayes
Robert Sojka
Susan Shea
Dale Hug
Albert Gallotta
Shirley Coddington
Kathleen Jess
Brandon Myers
Karl Schaefer
Antoinette Fisher
Wendy Dixon
Roy Salazar
Steven Stoddard
Ingvald Moe
Howard Brooks
Kenneth Neary
karen ruediger
Joseph Hale
John Kelly
Roy Hall
Thomas Kelley
Leonard Goodman
Lori Ann Stevens
Donna Kontopanos
Charles MacDougall
Daniel Stair
Ed Burns
Cynthia and James Ranieri
David Litchfield
Marcie Williams
Jeannene London
John Bilas
Paul Dingbaum
Donna Gambee
Arthur Short
Susan R Carroll
Terry Shaw
John Rich
Jonathan Knapp
Gerald Benitz
Brian Brager
Barbara Tarvainen
Arthur Daniels
christa matte
Lawrence Petrocci
Paul Kurzius
Kevin Rudman
Jesse Hertz
Gerry Miskowicz
Kevin & Jolene Mulligan
Frank DeMarco
Sean Baldwin
Pete Farmer
Kenneth Marinoff
John Kotlik
Kevin Traenkle
Rudolph P. Lago & Eileen M. Lago
Marian L. & Wayne Cascio
David S. & Judy J. Baum
Becky & Robert Gilmore
Harry C. Hardy Trust
Kathryn H. & Gregory B. Knudson
Robert Dale & Frances Chavez-Faught
John S. Houston PC
Diana M. Giglia
Amy W. & Shelby W. Stout
James & Myla French
Melvin D. Van Dentop
Georg T. Marcum
Jeffrey & Cathleen Teveloff
Janet M. Dewane
Ms. Nelda J. Gracia
Frank P. Sateriale
C J Stise
Mr. Paris Mundy
Deborah J. Lippman & Robert J. Heavey
Wallis G. Rehberg
Willis Bergoine
Jan Brown
Eleanore Baker
Jennifer C. & Daniel Salsedo
Raymond F. & Vivian Beck Dissette
Steven F. & Eileen Franz
Eugene L. & Sue Eckman
Roy Hood
Donna L. Miller
Kathleen A. Fatigato
Sam L. Case
White Bear Clothing Co.
Charles M. & Patricia A. Slevin
Stephen G. & Katherine Petrovits
Gary W. Sizer & Billie T. Sizer
Lynn Zahniser
David H. Girard & H. Jean Girard
Krystyna Glowiak
Ronald P. Bailey & F. Patricia Bailey
Mary A. Cerrato
Yardley M. Manfuso
Deborah Alice Lee & Patrick Sakamoto
Patricia G. Neville & W. Eugene Neville
Solomon O. Okai & Benjamin A. Okai
Mark & Afsaneh E. Behina
Shannon Lee Garber
Clive Bulmer
Sheryl G. Rosema
Michael P. & Roberta I. McKenna
David M. & Pamela A. Brennan
Frank & Sharon Underwood
Andrew J. Klain
Robert M. & Kinda D. Safford
Wayne E. Elder & Sue E. Elder
Charles D. & Ann L. McDanal
Michael J. & Virginia M. Slomkowski III
Morris E. Litwiller
C.R. Burns & M.E. Burns
Thomas Robinson
Thomas B. Wood
Cynthia Collins
Dennis M. Devore & Stephnia A. Devore
Olivia I. Hughes & Olivia S. Pompi
Dennis L. & Aldena M. Johnson
James B. Geist Jr.
Malinda Ann Haney
Kenneth & Melinda Ann Haney
Thanh V. Dang & Myhien Tran
East San Diego County Christian Fellowship
William J. & Maryanna V. Connelly
Ronald Clive
Gaston P. & Karen Bernier
Gina Lubrano
Clinton D. Jones
Mr. Robert R. Wiegand
Sandra F. Robinson & Laura F. R Launchbaugh
Sharon Sawyer Brand
Joan J. Criscione & Joanie Criscione Cooper
Cindy M. Odom
Carol A. Stacy
Don H. Stacy
John Robert Joyce
Timothy Mills Smith & Anni N. Smith
E. Rothell Charitable Foundation
David Reed
Richard S. Burwen
Clover L. Hinds
Ray Pierce
Diane M. & Richard M. Devita
Robert Ashjian
Margarete Dupke
Shirley A. Spiewak
Kenneth F. McCain & Molleen E. McCain
John F. Koller
Donna & Terry Weatherford
Marilyn F. Ploch
William M. Koslow
Marjorie M. Frank
Robert & Frances Hess
Mickey W. Barnett
Jorge Benavides
John M Canatela
Kenneth R. & Janet T. Herbster
Stephen D. & Paula J. Healy
Gene R. & Joanne C. Isaman
Mary J. Murphy & Richard Maxwell Murphy
Mary L. & Jerald A. Tenelshof
Kenneth & Sandra Hill
Edward F. Hurley
Yvonne Marrero
Russell Peck Jr.
Regina Knezevich
Robert J. McCarthy
Joseph F. & Cheryl A. Hall
Richard Haase
Donna Kenyon
Marci J. Garrison & Donald A. Ziegler
Carolyn M. Dixon MD
James L. & Helen R. Janele
Nelson Ferrera
Larry & Kathleen Owens
Hanna "Mom"
Judy Chadwick
Neta Hobson
Tom & Yuliya Knox
John Greenip
Neta Hobson
Birdrock Elementry