Donate to the Bahamas
Please donate goods or make a personal donation to the vetted and preapproved nonprofit organizations at https://www.approveddoriandonations.com or The Manchester Charitable Foundation which will give 100% proceeds to the most urgent needs.
How to Donate
100% of the funds will go directly to those in need.
Tax receipts and thank you letters will be emailed or mailed according to the address provided with your donation. The Manchester Charitable Foundation is a 501(c)(3) nonprofit charity. For tax purposes our Taxpayer Identification number is 33-0416002.
Donation by Credit Card
To make an online donation, please click below.
Donation by Wire Transfer
Wire instructions will be emailed upon request.
Please contact:
Stephanie Brown
email:
sbrown@manchesterfinancialgroup.com
phone:
619.678.0424
Donation by Mail
Please make your check payable to:
The Manchester Charitable Foundation
Note: Bahamas
100% of the proceeds will go toward the Bahamas for recovery, restoration, rebuilding & relief. The Manchester Charitable Foundation will contribute funds from the Manchester Family.
And mail to:
The Manchester Charitable Foundation
Attn: Stephanie Brown
2550 Fifth Ave. Suite 900
San Diego, CA 92103
Further Questions or Assistance
Stephanie Brown, VP Marketing & Public Relations
619.678.0424
Donate goods to:
Manchester Financial Group
2550 Fifth Ave. Suite 900
San Diego, CA 92103
Items needed:
Medical Supplies
Building Materials
Tents, cots, bedding materials & mosquito nettings
Electrical fixtures and materials
Plumbing fixtures and materials
Household furniture, furnishings and appliances
Electrical Generators
Bottled Water
Clothing
Food for personal consumption
Personal Hygiene Products Batteries
Dorian Hurricane Facts
45 deaths and thousands of people unaccounted for.
This has caused generational devastation with over 60% of the homes destroyed and 70% underwater.
Destruction is set to cost billions to restore.
More than 60,000 people will be in dire need of food, shelter and water.
This will take a massive coordinated effort to rebuild the Bahamas communities.
Listen to a live heartfelt story from a local Bahamian
A message from Papa Doug Manchester:
We are sending our thoughts and prayers to all of the families who have been affected by hurricane Dorian and to all of the Bahamian people. You are not alone and I know you will persevere through this catastrophe. I am proud that the United States of America has taken an active role in aiding and helping those devastated by the storm, but we must do more. As a concerned US citizen, I want to help the Bahamians in any way I can. I know there are many Americans who visit and vacation in the Bahamas, and want to help. There are many ways to do so. I am personally contributing my own resources to help support this effort and encouraging all US citizens to come together and support the Bahamian people.
This is a tremendous opportunity for America to forge an even stronger relationship with the Bahamians by showing our support in the greatest time of need. We need to ensure their safety and security and help them to recover, restore and rebuild. To all of the Bahamians, we love you, we support you, and we are here to help you. You are not alone. God Bless.
Live Updates from the Bahamas
A visit to the Shelter
Six young boys who have lost their parents
A young baby with a volunteer at a shelter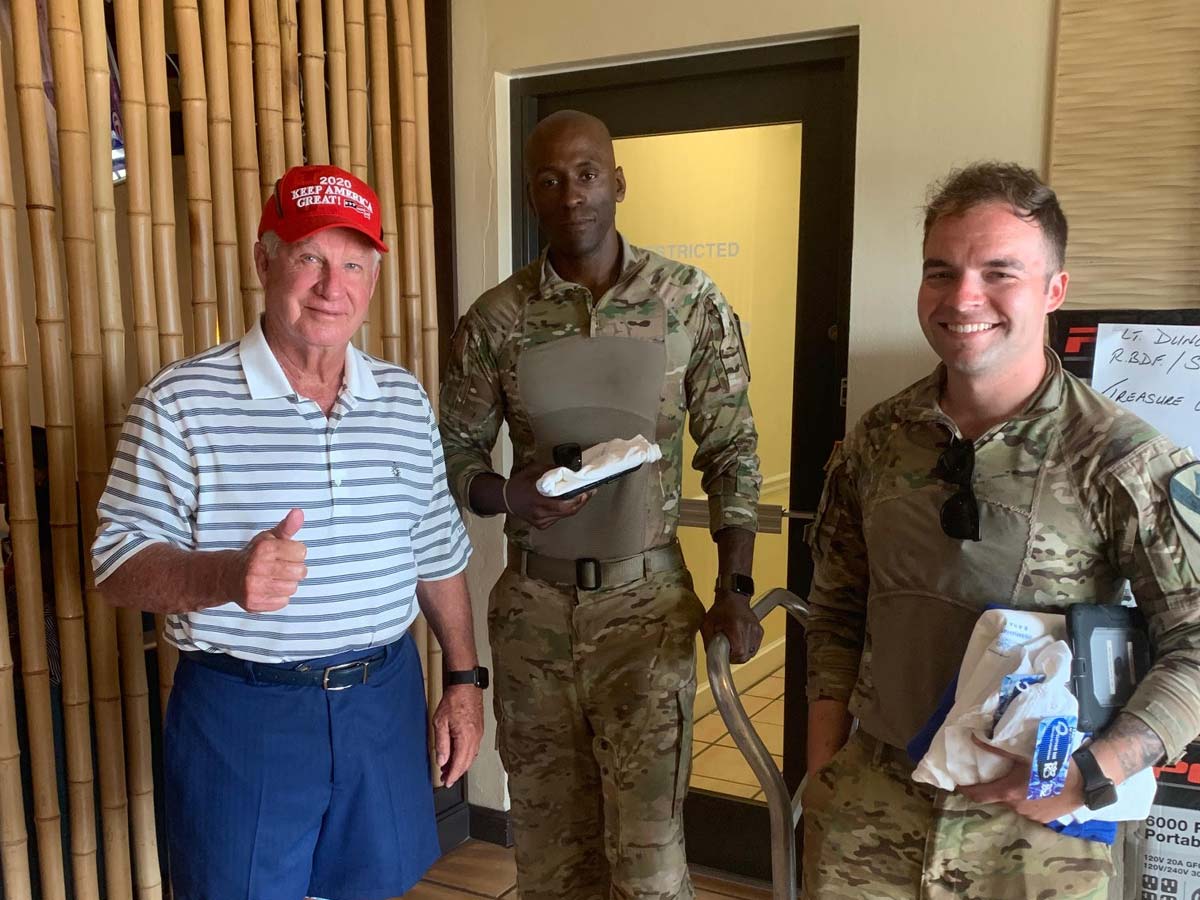 Boat seen 1000 yards off shore
Vehicle wrapped around a palm tree
Papa Doug on One America News
Update from Papa Doug:
I have been in the Bahamas since Saturday and I am proud of the United States of America for all of the help they are providing the Bahamian people. We have incredible support from our military, coast guard, first responders, and many other agencies. With the coordination of Nassau and the Islands, logistical support from volunteers, search and rescue teams, we are working together to address this tragedy. As a private citizen, I would like to thank all of you for contributing, and a special thanks to the United States of America and the Trump Administration for the aid you are providing. We will continue to work together to help the Bahamian people.
Flying over the aftermath left behind by Hurricane Dorian
Live recording from the Bahamas
Video of Bettina Anderson & Papa Doug delivering 2,000 pounds of supplies including:
1 pallet of MRE (meals ready to eat)
2 pallets water
Medical supplies
Hygiene supplies
Baby supplies
Lights
Paper towels
Generator
2 portable ac
2 shop vacs
2 Blowers
Fans
Tarps
Nails
Tools/gloves
Online donations:
Thank you to our donors
Lori Lumbert
Vivian M Chou
Michael McDonald
John winkes
Susan Finley
James andrews
Gary Schwindt
Carmen Feld
Brian Barnett
William C. Dixson
White White
Cheryl Thompson
Jan Ralf
Roberto Figueroa
Lisa Miller
Chris Jimenez
Cynthia Thomas
Manolo Mendizabal
Thomas Sracic
David Dumas
Julia Vogt
Susan Francipane
Barb Ondich
Arthur Short
Stephen Atwell
Jerry Noles
Mark Moore
Sue Booe
Armand Morrissette
John McCarthy
Sheldon Mandelbaum
Albert Carducci
Randy Schmille
Terry L Wilson
John Paukovits
Patricia Bradford
Robert R Cook
Robert Barklay
Daniel Twombly
David Mashburn
Tim Doskey
Soussan Dye
Kathie C. Lane
Nancey Tresler
William Scott
Curt Helling
Neeloufar Saleh
Ramona Anninger
Patricia Bryant
Jeffrey Sabin
H Huel Loden
Bonnie Falco
Arlene Jahn
Cynthia Freeny
Thomas Rumph
Ron Koenig
Debby Kirk
John Stolte
Joseph Miller
Joe Brininstool
Vicky Holbrook
Kerry Garrigan
Gisele J Gagne
Michael McClure
Denice Stouffer
George Horner
William Punches
Lorrie Ney
Dolores Stillings
Charles Booe
Jason Consorti
Robert Marzak
Lawrence Fiske
Rudolph P. Lago & Eileen M. Lago
Bettina Anderson